Aerial platform, Harmonie AC
# Product number : EL-103V2
Available configurations
Plusieurs formats possibles, maximum 2 mètres carré de surface, 32 à 42 pouces de large par 50 à 84 pouces de long.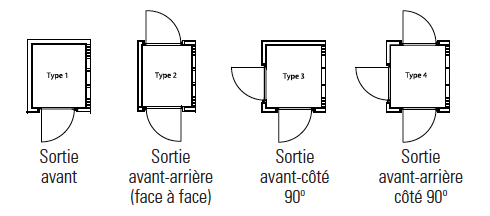 Benefits
• Faster and quieter • Moves smoothly • Takes little space • Easy to use • Noiseless mechanism • Stable and strong • Finishing harmonized with surrounding decor • Requires little care
Description
Harmonie is an indoor vertical trajectory elevator platform installed in a closed shaft. Adapted for people with reduced mobility, in wheelchair with or without accompanier, this home lift is designed and approved for commercial, institutional or residential sites. Top-of-the-line in its category.   Harmonie AC: functions on alternating current, and moves faster and more silently. This version is closer to a residential minielevator.
Technical specifications
Model: #EL-103V2-AC / Harmonie AC
Adapted for people in wheelchair with or without accompanier
Category: Elevator platform for people with limited mobility
Shaft: closed
 Standard: CAN/CSA-B355-09 & CAN/CSA-B613-00
Vertical trajectory
Maximum trajectory: Public 23' / 7 m

Single-family dwelling 45' / 13.5 m

 Capacity: 750 lb / 340 Kg (Option: 1,000 lb / 453 Kg)
 Power supply 208-600Vac/3/60 or 220/1/60 current
Mechanic drive: hydraulic cylinder and cables
Approximate speed: 28' to 50' / minute (0.14 à 0.25 meter / second) according to client's choice
Size: many floor sizes available, up to 2 square meter

Maximum length: 84" / 2,134 mm
 Maximum width: 42" / 1,067 mm

Remote control buttons: maintained pressure
Mechanical chamber: Minimum dimensions required; plans available upon request
 Safety device on the doors keeping the platformfrom moving if: • A door is not closed correctly • The platform is in operation • The platform is not on the floor
Emergency descending: Safety device allowing manual descending in case of emergency
Equipment included
36" anti-skid handrail
Anti-skid floor covering
Ceiling with integrated eco-energetic light (DEL Type)
Adapted landing doors
Melamine finishing in cabin / choice of colour
Remote control on each floor
Remote control ON /OFF in the cabin
Remote control ON/OFF on each floor
Alarm and emergency-stop buttons in the cabin
Options and equipment available
Telephone or Intercom in the cabin
Automatic door opener
Multi-choice finishing panels; you can harmonize the device to your home style
Availability of a various models of interior and exterior landing doors adapted according to in force standards
Surface or invisible door closers, according to door model
Retarded action door closers
Various models of control buttons
Choice of lights for cabin ceiling
Ceiling with integrated lighting (various choices)